CLAIRE MARIE'S TESTIMONY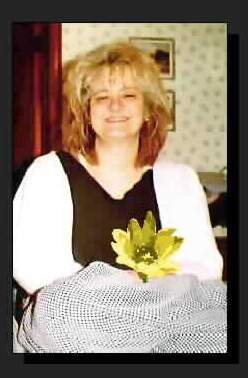 I was a backslidden Christian the cold winter day in the month of February when I had my terrible car accident. My car had hit a tree and rolled over 6-8 times.
I had been driving and awoke to find myself in the passenger seat. A lady
was peering through a crack I had left in the window and she said, "I saw
everything the ambulance is on the way". I often wondered if it was a lady or an angel I never saw her again.
After a long stay in the hospital I was told I had a permanent injury and
would be paralyzed from the waist down for the rest of my life. I had given up much hope for life after that and didn't trust in God anymore. I was certain now that He really didn't exist.
For two long years I lived like that. It was a sad and lonely existence. I
didn't know if life would ever be worth living. I fought off God for all I
was worth.
But one day sometime later, something took a hold of me despite myself.
Somehow I got a hold of a book called "Lord Heal My Hurts" by Kay Arthur and decided to read through it even though I was certain it could not help me. I had been struggling with the idea that God couldn't or wouldn't ever forgive me for what I did and the book showed me I was wrong among other things. But it was coincidental when I noticed one day while in the midst of the study that God's attribute was "Faithfulness". I read the definition: God cannot lie and has to be true to all that He say's he will do in His Word. I looked back at the pages I had marked with my finger and re-read the passage of scripture there .....Ask and It shall be given to you, seek and ye shall find, knock and the door shall be opened unto you. I was shocked and wondered, "Could this be true"? Back and forth between the pages I went for quite some time. I read again and again that God was faithful, then I read that He would answer my prayers. "What an interesting thing", I thought and I decided to test God. I thought there was a remote chance what was written there in that book could be true. So slowly I prayed, "God I have read that you are faithful and that you answer prayer so I am asking you to give me a reason to live. Please give me a ministry. Even though I had been doing consignment artwork for "H.H." a mission to the Jews, I was very very surprised the next morning when one of the missionaries ran to me and exclaimed, "The Director of the Mission would like you to go before the board!". In a few weeks I was accepted as a missionary and I worked for the mission, wheelchair and all, for 8 years. God answered my prayer, filled my life with happiness and proved who He really is: A Faithful real, living God who rewards those who seek after Him. Today I am full of faith and see answered prayers all the time but the greatest gift I ever received was the day God gave me His faithful miracle restored my relationship with Him and gave me a new life with hope beyond compare. I contribute this in full to The Lord Jesus Christ and His Leading in Kay Arthur's Life who created the Bible Study "Lord Heal My Hurts", to my friend Paula who mentored me back to Christ and to the Little lady Ruth Hanple who God sent to encourage me in art and who started my freelance art career with H.H. She answered Gods call to lead me to the mission where he created the miracle I encountered, which changed my life's direction and ended up in 8 years of full time ministry to the Jews first-
During my time there I saw many Jewish people come to understand Yeshua Jesus was really their messiah.
I have studied God's Word using the "inductive study Bible" Kay Arthur
developed and now attend Precept classes at my church
I highly recommend these Bible Study tools if you are wondering about God and the Bible. If you are wondering about the ministry to the Jews first, or are Jewish or even if you take issue with my call to the Jews first please read: this

Claire Marie
There are two people who sing songs to testify to how the Lord worked in my Life and How I Feel about Him Now. I have pasted them in below. I Love Black Gospel. If you would like to come to know Jesus as Your Savior please go HERE NOW Do Not Delay




If you would like to come to know Jesus as Your Savior please go HERE NOW Do Not Delay

Special note to ministries:
Feel Free To Copy This Testimony to Your Own Page Just Be Sure to Keep Our
Links and The Link To Precept Ministries on The Page. If you have a special
page or testimony you'd like us to copy to our server please write to us. Lets
Get God's Word Out There For Such a Time as This....
Contact: ckoch@vci.net or Anna@vci.net